Telediva, the owner of the center of Eloquence Ksenia Telshova withdrew women's seminars in Yekaterinburg to a new level. Teach the ladies to conquer men's hearts invited the famous Russian musician Mikhail Turkish. Training under the uncomplicated name "whom men want" launched on the site of the restaurant "Barboris". True admirers of the singer's creative work gave for the meeting 11 000 rubles, the VIP-ticket included breakfast, autograph and photo with a star. The enviable bride of Yekaterinburg, the heroine of the secular Chronicles of Dinara Kexin, was seen in the forefront.
In the fact that Mikhail Turkish is well versed in women's doubts no one arose-still directs the women's music team SOPRANO and brings up four daughters. Therefore, single ladies hurried to learn from the coach, how to gain fame in men, and married-how to inspire a spouse to feats. And while some drank coffee and took the storis with the idol, others were drawn to the microphone to talk about the sore. From questions about the decency of men and the high wages of women who embarrass the strong sex, smoothly moved to conversations about feminism and God. In the course of the meeting Turkish told touching stories of acquaintance with his wife, about the carriage after 50-minute singing with President Vladimir Putin and how manages to manage two collectives for many years. The main questions from the audience: Polygamy is a man and what a woman he would categorically not want.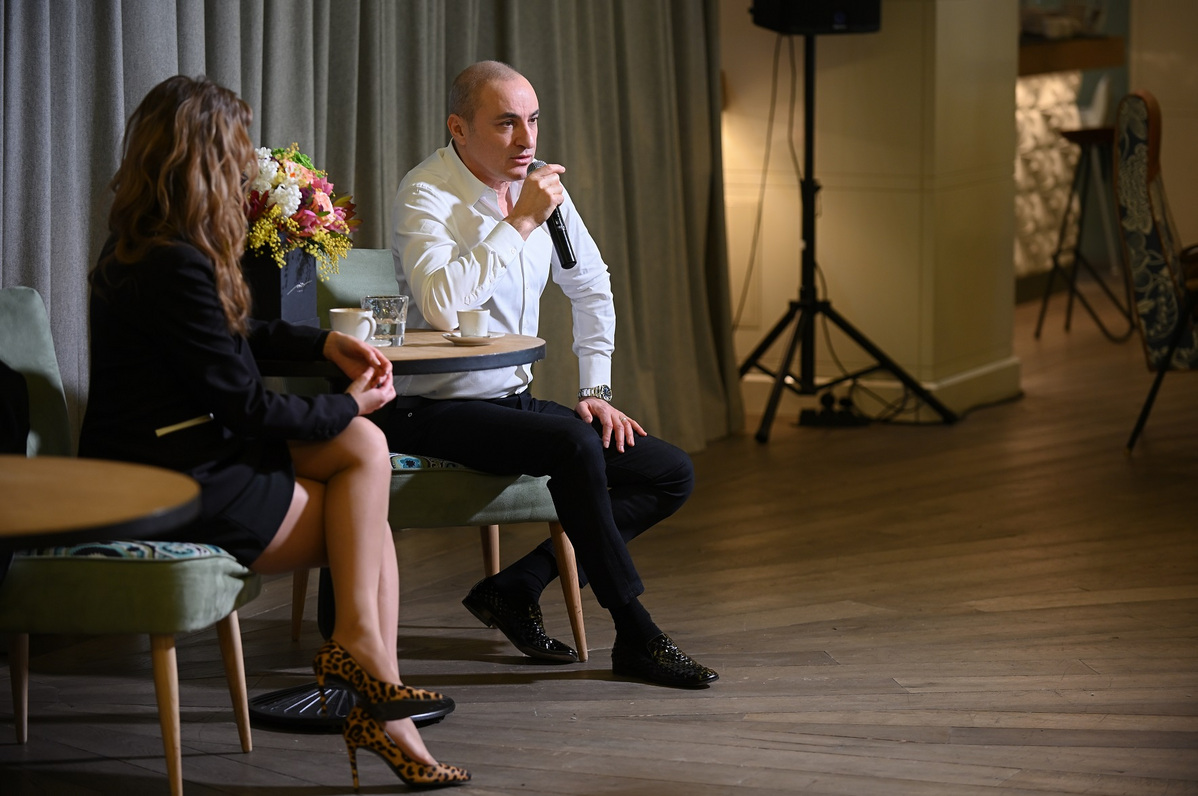 "I'll upset you, man of polygamy. Anyone, if not afraid of public opinion, will tell you this,-begins Turkish, adding: work on yourself, so you do not want to leave. You put the thread, in "Tikhvin" go and on the twine sit down, something trying to hide, something on the contrary, it is life, all this is done to occupy the most worthy place in the market. "
For dessert a lyrical question: What is the love between a man and a woman? Turkish answers quite simply-it means to remove selfishness to the second plan. "The person you love should be in the first place," concludes the artist.
For an hour and a half maestro manages to give the ladies of the city a lot of advice. For example, do not be afraid to go away from a man, if the relationship has gone, finally, just look for good men. Especially impressionable listeners admit that touched by the meeting and did not expect that the Turkish will be so deep man. Well, a musician as a sign of gratitude for his activity invites a dozen participants of the meeting for the evening Concert "chorus of Turkish". Source: https://momenty.org/people/3371